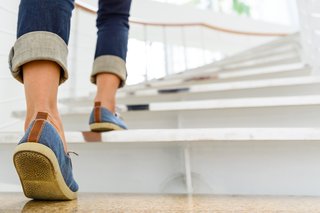 The secret to getting fit for free is to use every opportunity to be active.
Walk everywhere
Walking is one of the easiest ways to get more activity into your day, lose weight and become healthier. Research shows people who fit moderate activity, such as walking, into their daily life burn more energy than those who make weekly visits to the gym.
Try to fit walking into your routine by not using the car for short journeys, walking all or part of your journey to work, getting off the bus or train one stop early, and planning longer walks at the weekends.
Further information
Couch to 5K
Couch to 5K is a free running plan for absolute beginners. Running is great for weight loss, improving heart and lung function, strengthening bones, and giving you a general sense of wellbeing. 
The Couch to 5K plan involves 3 runs a week, with a day of rest between each run and a different plan for each of the 9 weeks.
Find out more about Couch to 5K.
For graduates of Couch to 5K or regular runners, try 5K+ running podcasts, a running podcasts series designed to work on your technique, speed and stamina.
Strength and Flex workouts
Fancy a personal trainer, but cannot afford one? Download our Strength and Flex exercise plans and get a fitness coach for free.
The virtual trainer will guide you through a series of equipment-free exercises designed to improve your strength and flexibility.
The workout instructions and pace are easy to follow to ensure you do each exercise correctly and in time. The 5-week Strength and Flex plan consists of 5 podcasts, each 35 to 45 minutes long, which are available as a mobile download for smartphones and some wearable fitness trackers.
Cycle to work
Whether you're cycling to work, school, the shops or just for fun, the humble bicycle is an easy way to be more active.
Cycling to work is one of the easiest ways of fitting exercise into your day. It'll also save you money on petrol or public transport costs. If you do not have a bike, you may be able to get an affordable bike through the government's Bike2Work scheme. 
Further information
Stair climbing
If you're looking for an easy way to add more activity into your day, take the stairs. Stair climbing burns more calories per minute than jogging and counts towards your recommended 150 minutes of weekly exercise.
Research shows that regularly walking up stairs is good for strong bones, cardiovascular fitness and weight management. It's also a safe, low-impact exercise that requires no equipment.
Park games
Remember the games you used to play in the playground? Games like hide-and-seek, "it" and "stuck in the mud" are not only good fun, they're an excellent way for all the family to be active, too.
These types of games involve short bursts of intense activity and periods of rest, which are very effective for improving fitness, especially if you're
…
Read More →