Governor Charlie Baker has extended his order for all non-essential businesses to close, to May 4, 2020.
D&D Fitness Factory will not open until May 4th or until Governor Baker allows businesses to re-open.
In light of this extension, for those members who pay monthly through EFTs – the auto deduction for April has been cancelled. No member will be charged for the month of April. For our PIF members, a month will be added to your contract.
We also want to THANK all our members for your understanding during this time. Special thanks to those who have written, called, or posted, that you didn't want reimbursements because 'we are like family to you'. Know you are family to us, and you've touched our hearts.
Gram is especially missing all of you!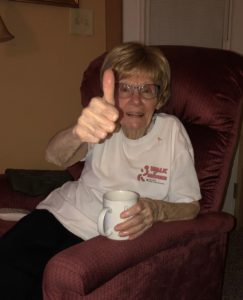 Again, please keep moving – keep exercising. It is critical especially during these stressful times. Has anyone taken pics of working out at home that we could share with our Facebook and Instagram community? We want to stay connected to our extended family! Just send the pics through Facebook Messenger to D&D Fitness Factory! To keep updated on the Coronavirus (COVID19) please visit: https://www.who.int/
UPDATE ON LIFT FOR LIFE & 5K WALK
Lift for Life / 5K Walk has been cancelled as the Walk of Champions was cancelled due to COVID19. If you have already paid to participate please either come in when we are able to re-open, or contact us to let us know if you would like to be reimbursed or if you would like your money donated to the Baystate Mary Lane Oncology Department.
Thank you and we look forward to re-opening soon!
Making a difference in your life!
D&D Fitness Factory is located in the Historic Mill yard of Ware. The renovated 11,300 sq. ft. fitness factory is a family owned co-ed gym that opened on December 1, 2002.
When you join the gym all aerobic classes are free! Check out our 'classes' section to see our schedule. From Guns / Guts & Glutes to Pilates, Zumba and so many more – we offer the classes you want.
Our intention is to make a difference in your life by providing an environment that permits you to reach your personal fitness goals. The Fitness Factory is a gym dedicated to you. It is the place to go when you want to escape from the daily pressures and have the time for yourself mentally and physically.
With state-of-the-art equipment and an experienced, friendly staff we will work with you to develop a program to meet your individualized needs. You just need to take that first step – come in and sign up. That's it…it's that simple!
Looking for free weights?
From boulder shoulders to monster quads, you can develop them all. The Fitness Factory has over 6,000 lbs of weights and one of the largest free weight floors in the area.
Cardio
Our Cardiovascular Center is equipped with Life Fitness Treadmills, Elliptical Trainers, Upright and Recumbent Lifecycles, as well as Stairmasters and Concept 2 Rowing Machines.
Circuit Training
If Circuit Training is your thing, the Fitness Factory carries the Quantum Q500 Series designed to target twelve major muscle groups. These machines are designed to encompass populations ranging from first time users to the elite level athlete.
D&D Fitness Studio
The Fitness Studio is available to all for a variety of different activities from Pilates and Zumba to Guns & Gut. When not in use for specialized classes this 800 square foot cool and colorful room is great for stretching and zoning in on those abs!
 Dry Sauna
After a hard workout relax with the dry heat in our co-ed sauna!
Juice Bar
Enjoy a coffee or fitness drink / bars at the juice bar.