CUMMING, Ga. — A Georgia dentist spent the weekend brainstorming with friends that had a background in engineering and medicine to help fill the shortage of face masks for those on the front line.
Dr. Mark Causey runs a 3D capable orthodontic office that can scan patients and create full models of their teeth.
As dental offices close during the coronavirus outbreak, Causey has found a way to help the rest of the medical community. 
"There have been nurses in OR's that have written my staff messages saying they were crying because they weren't being given the proper equipment," explains Causey.
He started by creating a 3D design for a mask that, when adding a filter and seal, can make potential substitutes for medical professionals.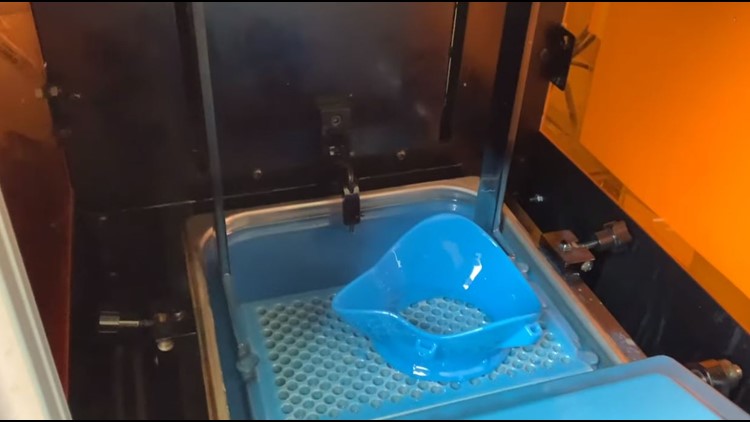 Dr. Mark Causey
Causey has made over 80 in the past few days and says it's "better than a bandanna, a scarf or a homemade mask," but goes on to explain that it's a backup to be used during a shortage. He's already sent out most of those masks to medical professionals in Georgia, Tennessee and California.  
"If people have protective equipment like N95 masks and so forth that are adequate, this shouldn't be used. But this may be a solution for shortages," said Causey. 
What makes his mask different than the fabric or other homemade designs, is the HEPA filter and seal on the back to get a tight fit against the face. Causey uses a Shop-Vac HEPA filter, disassembled and stretched out so it can be cut to fit the mask. 
Causey says the public can drop off the 3D masks they create to his office and he can fit them with the seal. To avoid contamination, he's asking the medical professionals that use them to purchase the HEPA material. Causey says design allows them to change the material as often as need to keep it clean. 
Causey Orthodontics office is located at 3520 Rowe Lane, Suite 200, Cumming, GA 30041.
► CLICK HERE TO GET CAUSEY'S 3D TEMPLATE
As word has spread, other dentists have offered to serve as drop off sites and finish the masks before delivery. See the full list at the bottom of this story. 
The masks are not FDA approved or designed to replace N95 masks, but a hospital in Savannah is helping to test them out, should there be a critical need. 
Doctor Puya Davoodi with Northeast Georgia Plastic Surgery has already started wearing his at work.
"You can actually see the breathing…So what we do is we wear this mask, [with] my surgical mask on top of it," said Davoodi. 
RELATED: Coronavirus in Georgia: Cases now stand at 1,026 with 32 deaths
Since he created his website with the design details, he says more than 2,400 people have downloaded the plans to begin production themselves, including staff in the STEM lab at Union High School. 
Causey says anyone with a 3D printer can do this with the
…